Welcome to the website of
the Open Source Order of the Golden Dawn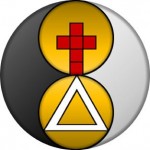 We are a community of magickal practitioners, mostly of Pagan background, who have gathered to work the Golden Dawn System.
Since most of the original order's material is published, and the world is very different from what it was at the start of the 20th century, we don't operate in secrecy or keep secrets save what is needed for confidentiality or security.
We invite you to:
In the sense of making it more prevalent, our primary goal is to normalize Adeptship. Would you like to help?